Recent projects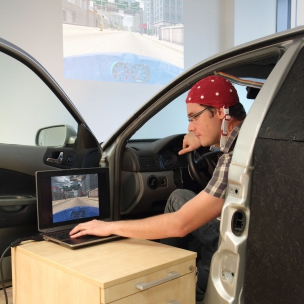 Driver's attention
We have developed a system based on analysis of EEG/ERP signals to identify the characteristic features of a driver's behaviour in different traffic situations.
prev
next
Neuroinformatics Research Group
We measure and evaluate electrical activity in the human brain and investigate human behavior in stressful and repetitive situations. We are expanding knowledge in the field of Neuroinformatics and our results are implemented in applications for improving the treatment of the disabled and in innovative products for creating a safer everyday life.
We provide services for the collection, storage, description, analysis and sharing of large data sets from biomedicine, particularly the signals from EEG, ECG and other bio sensors. We specialize in the collection and evaluation of brain event related potentials (ERP).
RESEARCH COOPERATION, INNOVATIONS IN THERAPIES
In our research cooperation we contribute our know-how of measuring, storing, describing and processing bio signals, especially event related potentials,for new therapies and product innovations.

We cooperate with hospitals and businesses in the following areas where we have long-term experience:
esearch into normal and abnormal behaviour of the brain, such as driver's behavior during simulateddrive,research into motor disordersin children, cognitive maps,hearing disorders, rehabilitation based on brain-computer interface (BCI), and biofeedback.
Development of assistive technology.
Measurement, long-term storage and evaluation of big medical data, particularly EEG/ERP data.
Annotation and sharing of EEG/ERP data in data storeaccording to international standards.


ABOUT US
The Neuroinformatics Group specializes in performing experiments and subsequent processing and evaluation of the experimental data in the field of biosignals, especially EEG / ERP signals. We have been active in this area since 2008.
We are a team of nearly 20 personnel with experience in neuroinformatics, development of experimental software and hardware, signal processing and medical data.
We act as coordinator of the Czech National Node for Neuroinformatics. We participate in the strategic activities of the INCF (International Neuroinformatics Coordinating Facility).
We cooperate with a number of universities, the Czech National eHealth Centre, Czech Technical University in Prague, the Faculty of Medicine of Charles University in Pilsen, the Faculty Hospital in Pilsen and the firm Alien techniks.r.o.
Our laboratory is equipped with professional scanning equipment for EEG, ERP and other biosignals, including recording and analysis software and a driving simulator. We have an acoustic and electrically shielded chamber. We operate our own web portal for storing and working with biosignals, registered in the Neuroscience Information Framework.
We are ready for research cooperation in the field of neuroinformatics.
COOPERATION MODELS
We offer cooperation in research in the fields of neuroinformatics, applied research and the development of innovative products in the following models or their combination:
Joint participation in projects.
Contract research for businesses developing products, treatments or new diagnostic methods.
Cooperative research in the development of infrastructure and methods for processing EEG/ERP.
We are looking forward for further cooperation.
CONTACT
More info at:
http://neuroinformatics.ntis.zcu.cz
Technology Transfer Centre
Mrs. Petra Krupková
Phone: +420/ 377 631 086
E-mail: transfer@rek.zcu.cz
Research Group
Mr. Roman Mouček
Phone: +420/ 377 632 465
E-mail: neuro@ntis.zcu.cz